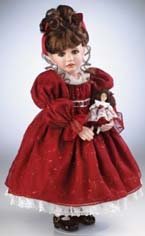 Young Love Toddler $225 shipped in the US
Coming Up Roses Series

Marie Osmond is pleased to present Young Love, a breathtakingly beautiful doll, and the first standing doll, within Marie's 'Coming Up Roses' collection. Marie commissioned award-winning artist, Emily Garthright, to sculpt a face worthy of becoming the final red rose in the collection, and indeed, she did. Costumed in an elegant, romantic, red gown with sparkle-embossed roses, legamutton sleeves, rose-embroidered white lace and rose-adorned waistband, Young Love gently cradles her own young love .. her dolly! With such a vision of beauty . . what's not to love about Young Love?! Young Love is truly a collectible doll with original head, arms and legs by sculptor, Emily Garthright. She has been hand-crafted with the special attention to detail that is the hallmark of all Marie Osmond dolls Young Love is hallmarked on the back of her neck with Marie's signature and is hand numbered. LE15000.