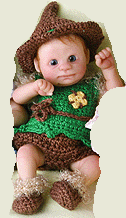 Wizard of Oz, Scarecrow $64 CLEARANCE SHIPPED IN THE US


From the Heavenly Handful Wizard of Oz series! Relive the classic story of the Wizard of Oz with this adorable collectible Wizard of Oz doll collection! A baby step is all it takes to begin this journey, starting with Issue One, Dorothy. followed by the others. Before long, your enchanting collection will continue with additional Wizard of Oz baby dolls, each a separate issue to follow.

Available exclusively from The Ashton Drake, each of the Heavenly Handfuls Wizard of Oz dolls in this collection is by internationally renowned doll artist Tina Kewey. At only 4-1/2" long, each is beautifully crafted of the finest collector-quality artist's vinyl and expertly hand-painted. You'll love their cleverly crocheted costumes, plus each doll's fabric baby blanket is decorated with something special, like the little crocheted Toto attached to Dorothy's! Don't wait - these dolls make incredible additions to your own collection, or magical Wizard of Oz gifts, and strong demand is expected.